Laser Treatment Birmingham: Psoriasis, Eczema, & Vitiligo
Our skin. It can be both a boon and a bane. A boon when it helps signal a favorable first impression. A bane when unsightly skin conditions set in. When skin conditions enter into the equation, we try almost anything to make them disappear. Creams, gels, serums—all these and more can take up our vanity real estate and bathroom shelf space. But some skin conditions seem immune to even the strictest daily regimen of creams, moisturizers, and gels. Your skin condition may call for relief from something much more revolutionary: the Pharos excimer laser.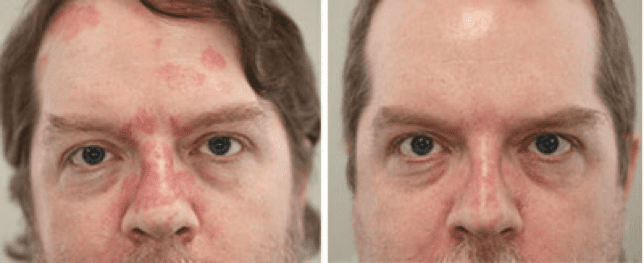 What the Laser Treats
The Pharos laser system offers next-generation treatment for a variety of skin conditions, including vitiligo, psoriasis, and irritating hand eczema. Its sophisticated design and delivery clears up psoriatic skin patches, skin areas discolored by vitiligo, whitened scars and stretch marks, and scaly eczema clusters. And Pharos provides sought after relief without proving detrimental to the surrounding skin: its highly therapeutic doses pose no risk to healthy skin with the right technician in charge.
How the Pharos Excimer Laser Works
How does walking into a light box with ultraviolet wavelengths all over sound? Probably not too good. In fact, that may feel like it goes against best advice. Rather than expose healthy skin to harmful ultraviolet wavelengths by and large, you can target affected skin areas with the right amount of UV with pinpoint precision. That's exactly what the Pharos laser system does.
You might be wondering: how does Pharos eradicate unsightly skin conditions without leaving undue harm behind? This is because Pharos carefully calibrates UVA or UVB wavelengths to the specific skin conditions' level, such as 308 nm for psoriasis. A broad range of UVA or UVB wavelengths doesn't do you, or your skin, any favors—and can even prove detrimental—but Pharos delivers precise wavelengths primed, and aimed, at eliminating skin conditions.
Now, this is not to say that the Pharos system is some magic wand that can erase all psoriasis, vitiligo, or what have you. The treatment only helps targeted psoriatic plaques or skin areas scant in pigmentation. Any light waves at this specific wavelength constricts and alleviates psoriasis cells. But the carefully focused beam of light provided by the Pharos excimer laser, coupled with its liquid light guide, helps treat psoriasis and vitiligo patches without wreaking havoc on the rest of your skin.
What All Does the Laser Involve?
A fair question, to be sure. Laser treatment can seem drastic, and even daunting. But, with the Pharos system, it doesn't have to be.
Pharos offers a diverse treatment solution. The laser can be used anywhere psoriasis, vitiligo, or eczema is present, including on sensitive areas like the scalp, knees, and elbows. It's also safe to use on women who are pregnant and young children; the treatment has been safe and successful on children as young as just a few years old.
It's one thing to be safe to use on skin. But what about pain? Is the treatment painful? For most, no. Many report feeling absolutely no pain when being treated by the Pharos system. Plus, the treatment takes almost no time at all. The treatment lasts the span of a quick coffee break, usually somewhere in the ballpark of ten to 15 minutes—tops.
What About Results And Follow-Up?
As a general rule, treatment won't exist in isolation: follow-ups will be necessary. Most patients start noticing results after about three to four treatments, with the area treated fully clear in the 10 to 20 treatment range. Treatments will be conveniently performed in-office, two to three times per week. And clear skin courtesy of the Pharos excimer laser lasts longer. Skin free from psoriasis, as well as other skin conditions, persists roughly four to six months longer than other, comparable psoriasis treatments.
As for insurance concerns, we can go ahead and help clear those up as well. On the whole, most major insurance companies, as well as Medicare, cover Pharos laser treatments. Woohoo!
Pharos Is for Vitiligo, Too?
Yes! Pharos can be switched to deliver high doses of UVB light, perfect for a range of lighter skin issues, including vitiligo, white stretch marks, and white scarring.
Can I Use Other Treatments?
At Cahaba Dermatology, we provide personalized treatment plans. Our dermatologists and skin care specialists will go over your treatment options, and if further topical or biologic solutions could suit your situation.
Come See Us
If you've been looking for clearer skin, Cahaba Dermatology can provide an avenue for much-needed relief: through the Pharos excimer laser. We can help treat the patches of psoriasis and other skin conditions that appear on your face and neck—or anywhere, really. Contact us online, by phone at 205-214-7546, or through our patient portal to schedule an appointment and see the results you deserve.