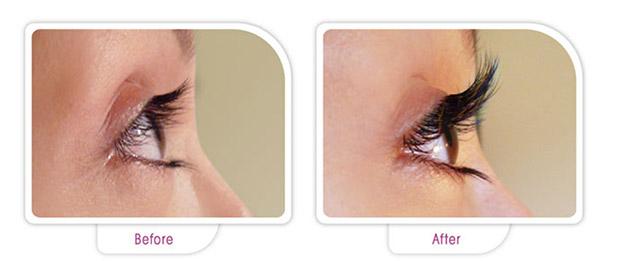 One of the primary advantages of Lash Extensions is that you won't need mascara. Take a vacation from your mascara and enjoy the freedom of effortless beauty! At Spa Cahaba we use semi-permanent faux mink lash extensions. There is also an option of 100% Siberian Mink lash extensions. Each lash extension is applied one lash at a time to your own individual natural lash. A patented technique with meticulous precision and skill is used to mimic Mother Nature and painlessly extends your lashes to lengths previously thought impossible – no mascara or eyelash curler necessary. So beautiful, no one will know they're not yours. See the difference of eyelash extensions:
Wake up every morning with beautiful looking eyes, NOT having to be a slave to your mascara anymore!
They have a natural curl so you can throw away your eyelash curler.
Eyelash extensions save you time in the morning.
Make your eyes pop, even behind glasses.
Eyelash extensions make your eyes look youthful and can give your eyes the appearance of an eyelift, without actually having surgery.
With customized colors, curl and lengths, lash extensions can enhance your eyes to bring out your very best features.
Natural feel – When professionally and properly applied, these light weight lashes feel just like your own.
Natural Wear – perfect for daily wear and active lifestyles. You can shower, swim, spa and sleep worry free because eyelash extensions are waterproof and durable.
Semi-permanent eyelashes that last indefinitely with re-lashes every 2 to 4 weeks.
If it's brows your needing shaped, Marcia will redesign and properly maintain your eyebrows using only the best waxing products.
Rest assured you are in the care of a professional who knows exactly what looks best on you!