As we age, our skin loses volume due to reduced levels of collagen, elastin, and hyaluronic acid. Dermal fillers are used to replace lost volume, providing immediate results with very little downtime. Fillers are sometimes used in conjunction with other treatments like botox and skin resurfacing. We will recommend a filler for your specific needs during your cosmetic consultation.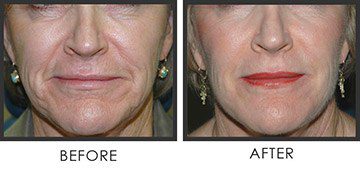 There are a number of fillers now available including JUVÉDERM® XC, Restylane, Radiesse and Belotero. JUVÉDERM® XC, Restylane and Belotero are injectable gels that contains hyaluronic acid which provides volume and fullness to the skin. They are injected into facial tissue to correct mild to severe wrinkles and folds, add volume and restore a smoother appearance to the face. The results last about 6 months. Each filler is chosen specifically for the site that needs to be corrected, since each filler has different consistency and thus action.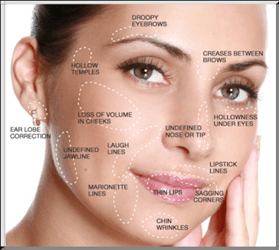 Learn More About Individual Fillers:
Cahaba Dermatology currently offers the following dermal fillers: (Will create Blogs around each product and will link each service to the individual blog created)
JUVÉDERM®
JUVÉDERM® dermal filler, a 'next generation' hyaluronic acid dermal filler approved by the FDA in June 2006, contains the highest concentration of cross-linked hyaluronic acid of any dermal filler currently available. These attributes provide optimal results with a single treatment of JUVÉDERM® in the majority of patients and deliver sustained results for up to six months or longer.
JUVÉDERM® dermal filler is the only hyaluronic acid dermal filler developed using a proprietary, technologically advanced manufacturing process that results in a malleable smooth gel that flows easily into the skin, creating a smooth, natural look and feel. The treatment helps to 'fill out' and smooth away lines or wrinkles, acne scars and enhance the lip size and shape. Results are immediate with minimal recovery time. Juvederm is the most frequently chosen injectable filler for the lips because of its smooth, soft gel formula.
JUVÉDERM® dermal filler can be administered in a smooth-flowing injection, providing physicians with a high level of control for individualized, tailored facial contouring and for achieving a smooth and natural look.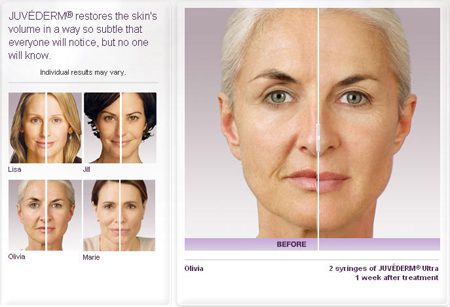 JUVÉDERM® is an excellent treatment option for:
Lip enhancement
Deep folds
Facial lines
Wrinkle correction
Volume augmentation of the lips
Shaping facial contours (such as cheeks and chin correcting)
Smile lines (correcting thin, superficial lines around the eyes, mouth and forehead)
RESTYLANE
What are Hyalironic Acid Fillers ( Restylane)?
HA fillers are the most common cosmetic dermal fillers used to eliminate wrinkles and augment lips and facial features. They are made up of biodegradable hyaluronic acid, has no animal-based components, and is naturally occurring in all living things. There is no skin test needed because of its natural formula.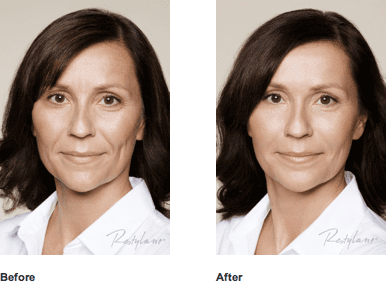 When Restylane is injected directly into areas where the body's support structures have been weakened, depressions can be raised to the level of surrounding skin. This smoothes and minimizes facial lines and most types of scars. In addition, skin texture is improved and has a softer and more even tone.
How are Hyalironic Acid Fillers (HA fillers) such as Restylane administered?
HA fillers are administered by injection into the skin in the area chosen for treatment. It is administered as a gel that bonds with the water molecules naturally present in the facial skin, and its effects are noticeable immediately.
What Should I Expect During and Immediately After the Treatment?
You will experience slight redness, swelling, bruising, or minor pain may develop, they usually last only a few days. Any unsightly blemishes can be covered with makeup. Bruising can be diminished with Vbeam laser as well topical application of arnica.
What Are the Long Term Effects?
After injection, HA fillers typically continue to have its cosmetic effect for six to twelve months before being harmlessly absorbed by the body. Hyalironic Acid filler treatment often requires only a thirty minute office visit, after which normal work and activities can be carried out, with a follow up visit in 2 weeks. We will call you that night to make sure you are comfortable after your procedure.
RADIESSE®
Radiesse® is an injectable gel containing calcium hydroxylapatite microspheres that provides volume and fullness to the skin as well. It is injected into facial tissue to correct moderate to severe wrinkles and folds, add volume and restore a smoother appearance to the face. The results last about 12-18 months. It is also used to restore volume in the hands.
Mechanism of Action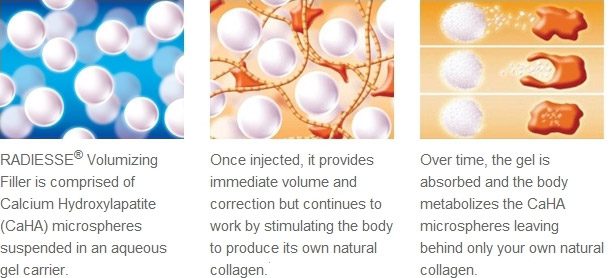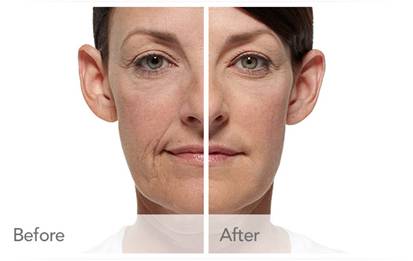 What Should I Expect During the Treatment?
The injections may cause a mild and temporary discomfort. Slight swelling may occur after the treatment, along with tenderness, but is gone within a day or two. Bruising may occur and can last up to two weeks, but can be covered with makeup.
What Should I Expect Following the Treatment?
It is best to avoid touching the area that was treated for a few days, and after the redness and swelling have gone, do not expose the treated area to extremes of temperature. Bruising and bleeding may be increased if you take aspirin during the recovery period, and if you've been prone to facial cold sores, the treatment may cause an eruption.
BELOTERO
Belotero – A New Clear Gel Filler for Fine Lines to Deep Creases
A new wrinkle filling gel developed in Switzerland, Belotero, has been added to the selection patients have for correcting lines, wrinkles and augmenting the lips and other areas.
What is Belotero?
Belotero is a clear, colorless hyaluronic gel similar to existing dermal fillers, but has a unique creation process that is said to provide more "elastic" properties. One of the natural functions of hyaluronic acid is to help provide structural form and shape to the external features of the body. This property of hyaluronic acid is the basis for BELOTERO BALANCE's effectiveness as a dermal filler.
Approved by the FDA in November, 2011, Belotero is just now becoming available in physician offices. Belotero is a product of Merz Aesthetic, providers of Xeomin wrinkle relaxer and Radiesse.