Acne Scar Treatments Birmingham
Acne. For many, it hits hard during puberty, which is already a time prone to unpleasant bodily changes and abnormally high doubts of social anxiety. Unfortunately, acne can also linger into adulthood, adding to its already excruciatingly long time on our faces and bodies.
Some feel acne's after effects even longer: through acne scarring. And scarring doesn't just exist face deep. It can leave quite an emotional toll; which visible acne scars continually remind us of. Thankfully, treatments and therapies are available for all sorts of acne treatment, from stubborn pimples to residual acne scarring.
What Causes Acne Scarring?
The process that causes scarring in general also underlies acne scarring. Acne scars result from the body overworking to address acne wounds, which produces an abundance of collagen. This buildup in collagen forms a patchwork solution that materializes into scarring. When the excess collagen becomes permanent, visible scars appear—and stay.
Why Seek Treatment?
While scars can be said to bring character or interest, many people find scars on their face and body unappealing and distracting from their more flattering features. A scar's permanence adds to many's distress.
For those who would prefer their scars gone, acne scar treatment exists through scar revision. Treatments diminish the look of scars, which can result in quite a noticeable difference in appearance. Scar healing without dermatological supervision rarely, if ever, leads to the preferred outcome. Scar revision can be tailored on an individual, case-by-case basis—and, at times, a string of different solutions could prove to be beneficial or effective.
If you're thinking about seeking treatment for acne scars, you really only have to ask yourself one question: Do I want my scars to stay? Your scars will never define who you are as a person, but seeing them disappear may just improve how you feel about your appearance.
Types of Acne Scars
Acne and acne scarring are not the most pleasant things to think about. But knowing about the different types precedes the right treatments.
Acne scars fall into the subtle scar category, which is good news on the whole treatment-wise. However, acne scars can vary in size and severity, which could complicate things just a bit. Some scars may rest flat or even sink into the skin, coming in red, white, or even in your skin tone's hue. And coloration isn't the sole point of variance.
Generally speaking, acne scars fall into four categories. These include:
Ice Pick Scars. One of the more commonplace acne scars, ice pick scars owe their name to the deep scar penetration (akin to an ice pick) that burrows beneath the top skin layers. They're usually narrow in shape.
Boxed Scars. Another common acne scar, boxed scars sport defined edges and carry a much wider breadth than their ice pick counterparts. They resemble ovals in shape.
Rolling Scars. Rolling scars are shallow and wide, and indicate damage beneath the surface levels of skin.
Keloid/Hypertrophic Scars. Keloid and hypertrophic scars are usually found on the back and chest, but can appear on the face and neck as well. These raised scars feel solid to the touch, but can dwindle in size over time.
Depending on a variety of factors, scars can find themselves localized to a specific spot, or more generalized across an entire area. Beyond general differences, time can also play a role in how scars look. Volume loss under the skin over time can make the scars appear worse. Treatments have to take aging, and even how fresh the scars are, into account.
Treatments for Acne Scarring
The secret to successful acne treatments is customized solutions. Cahaba Dermatology knows this, and utilizes treatments, whether alone or in combination, that suit specific acne needs. In fact, our treatments carry quite the range—but each has been proven effective under different circumstances. Treatments we employ include:
Chemical peels;
JetPeel microdermabrasion;
Intense pulsed light;
Blue light therapy;
eMatrix sublative skin resurfacing;
Medical-grade, topical skin care products;
And more.
With extensive dermatology expertise, Cahaba Dermatology has the knowledge and tools to assess your specific treatment regimen that suits your skin. For instance, some scars call for the use of chemical peels of varying strength to address acne, lighten darkened spots, and improve skin's overall appearance. Light therapies might prove more effective as severity scales up. As a supplemental treatment option, topical, medically proven skin care products may work in tandem with more extensive treatments in-office.
We take a comprehensive approach to acne scar rectification at Cahaba Dermatology that's appropriate for both adolescents and adults. That starts with a skin examination and dermatological consultation from Dr. Vlada Groysman, M.D.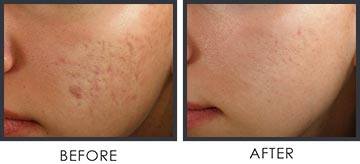 Schedule An Appointment
In adolescence, acne can be a prime catalyst for a loss in self confidence. Acne scarring can spawn a similar response as adolescence unfolds or even into adulthood. Once seen as a constant, scarring has since lost its sting. Treatment options make acne scars less noticeable—and can return your skin's appearance back to the healthy glow you know and love.
Acne scarring doesn't have to keep causing you worry, whether if you're in front of the mirror or out on the town. Dermatological treatments are available to address the scars left by your acne, which we don't blame you for if that's music to your ears. The next steps to find solutions that suit your skin's specific needs are in front of you.
At Cahaba Dermatology in Birmingham, AL, we firmly believe that seeing a dermatologist doesn't have to be a daunting affair. While we carry an array of services and products geared toward people with acne-prone or acne-scarred skin, we provide a personalized treatment plan under the direct supervision of Dr. Vlada Groysman. She'll link you with a skin care program that's right for you, catering one specifically aimed at maintaining a healthy, beautiful complexion. Reach out by phone at 205-214-7546, or by following our patient portal. You can also schedule an appointment conveniently online!