Announcing Dr. Holly Gunn MD Board Certified Dermatologist joining Cahaba Dermatology!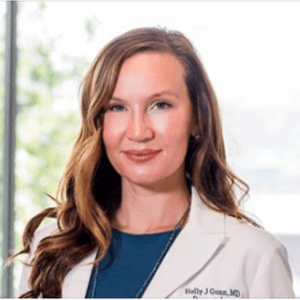 Dr. Gunn will be joining the team at Cahaba Dermatology and brings over a decade of experience in the field of Dermatology and skin. Dr. Gunn offers Dermatology care for all ages and specializes in medical, surgical, cosmetic and laser Dermatology. She most recently served as associate professor of Dermatology within the department of Dermatology at UAB and Director of UAB Dermatology Cosmetic and Laser Clinic.
Dr. Gunn is from Alabama.  She graduated in biochemistry at the University of Maryland. She then attended medical school in her hometown at the University of South Alabama College of Medicine and was elected to the prestigious Alpha Omega Honor Society as a medical student. She moved to Pennsylvania with her husband and completed an internal medicine internship, research fellowship and dermatology residency at Penn State University Hershey Medical Center. She also obtained a Masters in Public Health Sciences during her residency and fellowship years. She is board certified by the American Board of Dermatology.
During her residency she became skilled at diagnosing and treating skin diseases of all ages and ethnicities. She also received a Women's Dermatologic Society Mentorship Award to pursue her interest in pediatric dermatologic surgery at Northwestern University. She is passionate about skin cancer prevention and has published articles in dermatology and psychology journals for her research and experience in dermatologic diseases. She also has a special interest in cosmetic dermatology. During residency she organized a cosmetic training clinic allowing her to practice, teach and develop her expertise in treating acne scarring, wrinkles, sun spots, and other signs of aging.  She also taught residents as the Cosmetic Dermatology Director at UAB.
Dr. Gunn's goal is to give her patients total devotion and expertise to meet their individual needs. Being a wife and mother is also a very important part of her life along with being a great physician to her patients. Her family time is spent enjoying hiking, biking, canoeing, snowboarding, reading and watching college football.
Call today to book an appointment with Dr. Gunn. Booking Hoover and Tuscaloosa now!